How to Pick the Right Front Door Replacement For Your Home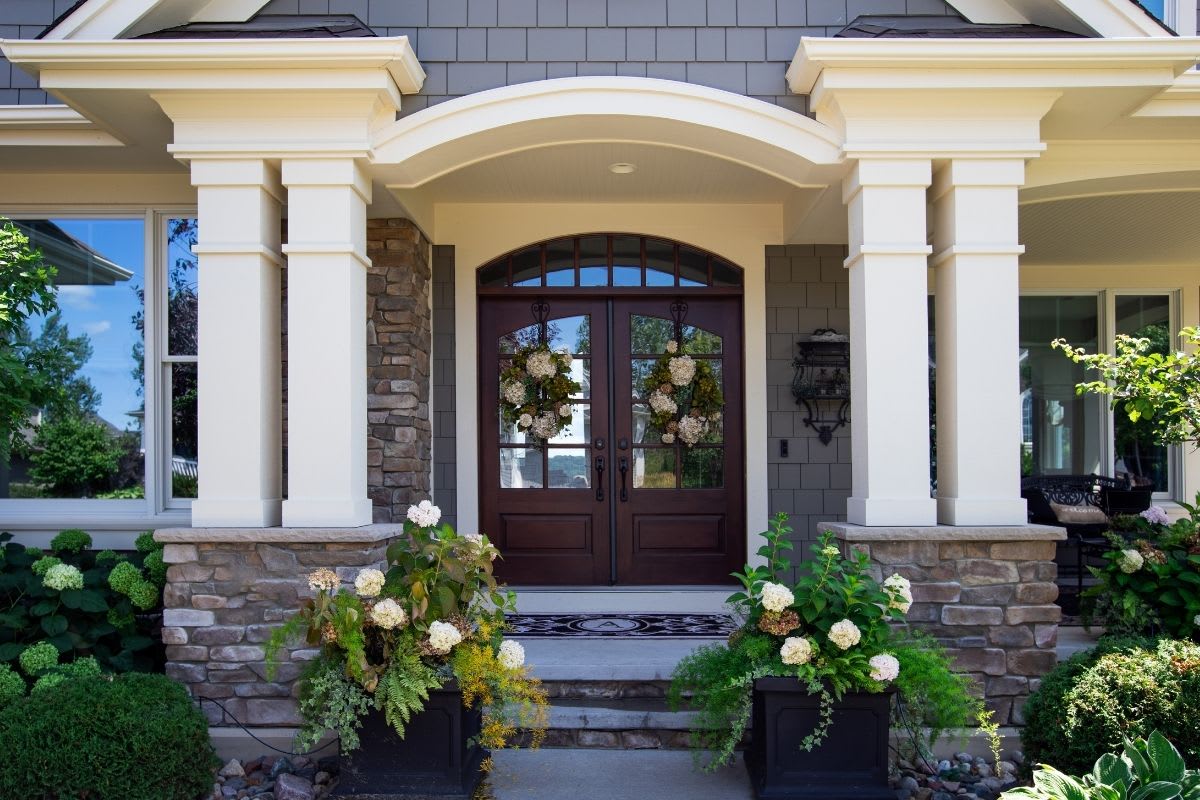 Post Update: This article was updated on February 18, 2020, and originally published on October 10, 2019, and has been completely revamped and updated for accuracy and comprehensiveness.
For most home buyers, their home's front door is the one that they inherited when they purchased the house.
Even though people make many changes to the inside of a new home, they often overlook changing their front doors. But that door creates a strong first impression on every person who visits your home.
Just like you wouldn't live with the previous owner's furniture, you should also choose a front door that represents you.
If you're looking to sell your home, changing your front door can also have a huge impact on your home's curb appeal and, therefore, its perceived value.
Learn how to find the right front door replacement for your home.
Front Door Replacement Options
When homeowners decide to buy new doors, they find an extensive market that offers an infinite selection of styles, materials, prices, hardware options, and a variety of other elements to consider.
What type of door do you want? Will it be made out of steel, fiberglass, or wood? Do you need or want a weather-tight door?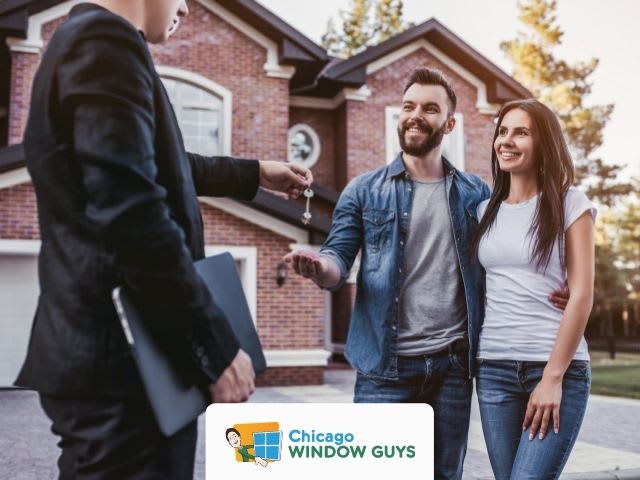 Selecting the Right Front Door Replacement for Your Home
Choosing a replacement front door for your home is a big decision. You want to choose something that boosts your home's value, compliments your home, provides security and privacy and represents your family.
1. Determine Your Budget
The first step for all projects is deciding how much money you want to invest in them. Factors that you need to consider when determining your budget for door replacements include the estimated useful life of the door, what features are included, if there are staining or painting costs, whether it requires additional hardware or accessories, and the installation price.
Generally speaking, steel entry doors are the way to go if you're on a tight budget, whereas wood entry doors are on the high end of the price spectrum. Fiberglass entry doors are a good option in the middle.
Additionally, energy-efficient doors are more expensive to purchase but will increase your energy savings, therefore lower your home's utility costs.
A front door replacement, like any home expense, is an investment. Always compare your up-front cost to the long-term benefits.
Factor in expenses, like energy efficiency, maintenance, and life expectancy of the door. Everything affects the cost of your front door replacement.
2. What Material Do You Want?
Besides the appearance, the door's material will affect not just its durability but also its maintenance. Features like decorative glass panels will come at an additional cost.
The most common materials used for doors are wood, fiberglass, and steel.
Wood
Wood is a classic choice with the option of different colors and grain patterns. Wooden doors are beautiful. They are easy to manipulate, so it's often used for special designs or custom situations. Wood makes it easy to add sidelights, decorative glass, or transoms. Plus, oak, mahogany, and pine all have a different aesthetic.
One disadvantage to wood exterior doors is weather can warp them. Extreme heat, cold, and sunlight can damage your door.
If this happens, the door won't close. It won't insulate your home. Examine your door every year to make sure it's working.
Some modern wood doors are veneers over a steel core. The steel core lowers the cost and reduces warping.
Fiberglass
Fiberglass doors have become popular because they can combine the benefits of wood and steel doors. They have the appearance of a wooden door and the energy-efficient features of a steel door. Additionally, they can be just as durable as steel doors.
Fiberglass composite is affordable and durable. Fiberglass works well in harsh climates. Most fiberglass doors have a foam core, which is an effective insulator.
Fiberglass doors don't dent and rarely need paint touch-ups.
You can stain a fiberglass door to look like wood.
Fiberglass doors cost more than wood. But, added insulation saves money on energy expenses.
Steel
Steel doors are extra durable and less likely to crack or dent. Some are outfitted with an insulated core which helps with energy efficiency.
If you have minor damage, you use an auto body repair kit to fix it. Major damage usually means you have to replace it.
A steel door can be energy-efficient in moderate climates. Steel conducts temperatures. Therefore this material doesn't do well in intense climates.
Steel doors are inexpensive but have a shorter lifespan.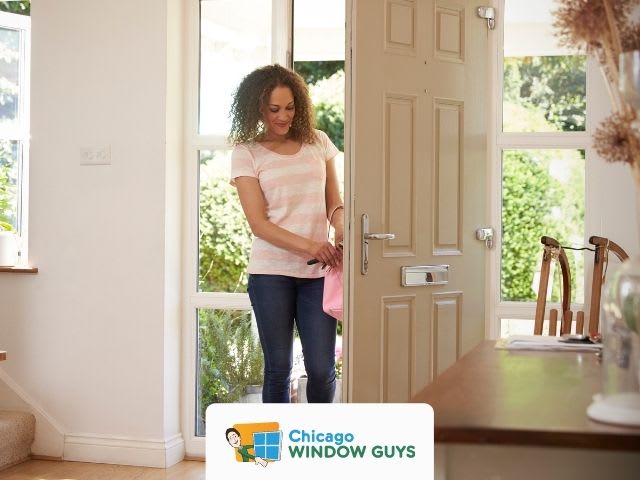 The Best Replacement Windows and Doors at the Best Price
We're the #1 Reviewed Door and Window Installation Service in Chicago for a reason. We know how to help.
3. Measure Carefully
Is your front door a standard size or larger?
You know what they say, measure twice and cut once. Carefully measure the size of your entryway to make sure you get the right-sized door. According to The Spruce, the standard front door size is 36″ x 80″, or about 3′ x 6'7″, but your home may require a taller door or double doors.
If you have other features around your front doors, such as sidelights or decorative transoms, it gets more difficult, and you should consider hiring a professional.
The size of your doorway determines your options. If it's extra-wide, you may need a 42-inch single door. Maybe you have double doors.
4. Choose a Style
Choose a front door that not only complements the appearance of your home but one that represents your family's personality.
Some of the more popular front door options are the classical and craftsmen designs that would suit a family with very traditional values. A more eclectic or artistic family may opt for a modern design featuring sleek lines or decorative glass panels.
You want to choose a door that visitors will associate with what is important to your family.
What is the architectural style of your home? Your front door should match. There are styles to suit every taste.
If you don't want a predictable front door, use it to make a statement.
Now You're Ready to Choose a New Door
Installing a new front door is a big endeavor. Your front door says a lot about you. It's an introduction to your home for family, friends, and neighbors.
But, beyond looks, there are important factors to consider when choosing a new front door.
Call the experts if you have questions; Chicago Window Guys will help you. Call today for a free estimate or to schedule an installation.