One of the most fun aspects of remodeling your home is the opportunity it gives you to completely re-imagine what space could look like. Your choices in windows, doors, paint colors and furnishings allow you to create your own world exactly as you imagine it.
Two of the more interesting choices for door replacements that can open onto a patio or serve to connect two rooms are French doors and sliding doors. Each gives a different feel to the room and comes with its own set of logistical pros and cons. Do you want to learn more about french doors vs sliding doors? Let's explore and compare these two options so you can choose which is best for your home.
What Are French Doors?
French doors are two hinged doors set into the same frame. They can both be active (usable) or, in situations with limited room for door swing, can be set up so that only one of the doors is active. Doors may be set up to swing into or out of the room.
What Are the Pros of French Doors?
Aesthetic Beauty
French doors are a classic, timeless choice. Their visual appeal complements both historic and contemporary homes.
Function
If you will be moving large pieces of furniture in and out or hosting parties with large groups of people, the large width of a traditional two-panel French door with both sides functional is a major pro. It creates a much wider opening than a sliding door.
What Are the Cons of French Doors?
Space
With French doors, there must be room for the door to swing inward or outward. This takes up space in your room or on your patio and affects furniture placement options.
Price
French doors are more expensive than sliding although the final price depends on the exact doors you choose. If you like the idea of French doors and want to know more about pricing, contact us for a quote.
What Are Sliding Doors?
Sliding doors consist of two large glass panes installed on a track. One of the panes remains stationary while the other slides back and forth to open and close. That means that the functional opening width is equal to the width of one of the panes.
What Are The Pros of Sliding Doors?
Views
Sliding doors are mainly glass, so they let in plenty of natural light and provide great views of your yard.
Space
Sliding doors don't swing into the room, so they need far less space than French doors. They also don't affect furniture placement within the room or on the patio.
Price
Sliding doors vary in price depending on the quality and manufacturer, however, in general, they tend to be less expensive than French doors.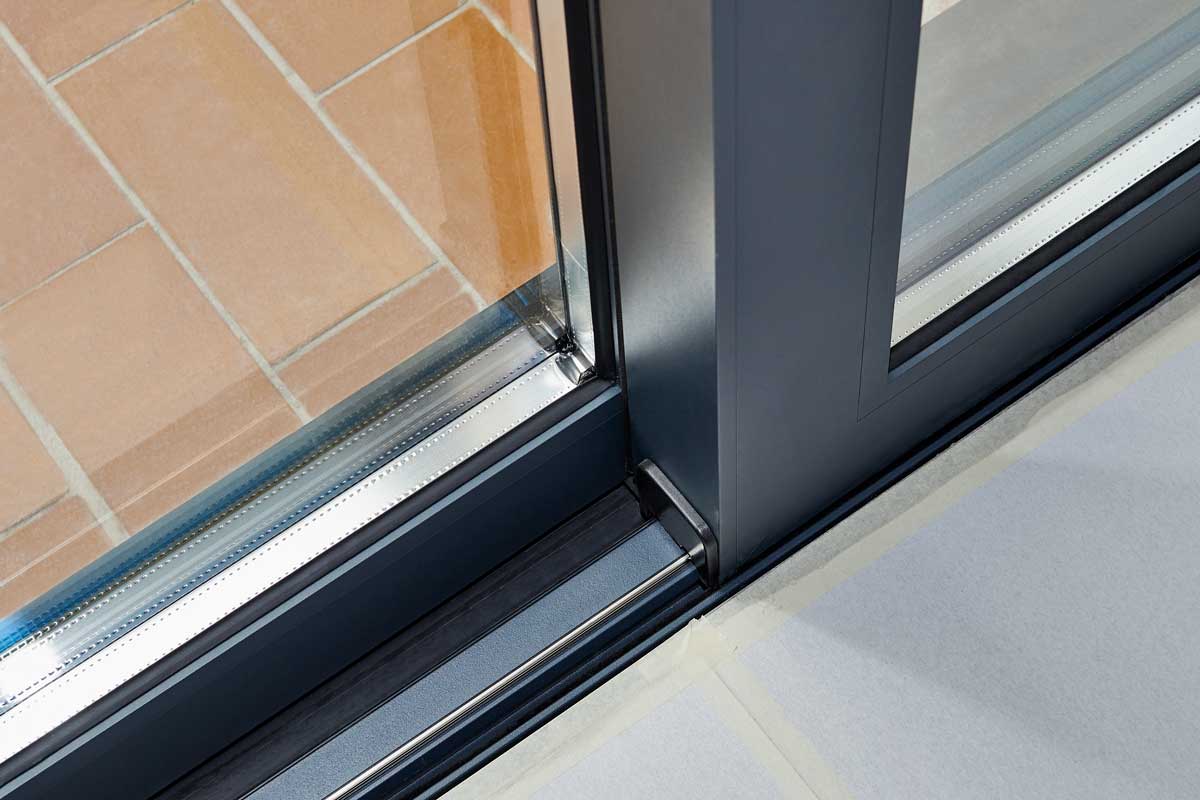 What Are The Cons of Sliding Doors?
Aesthetics
Sliding doors can look very modern in a contemporary home, but they may not suit the timeless nature of a classic historic home as well.
Functionality
Sliding doors need a track to slide in, so this means that the threshold is higher than it is for French doors. This may not be too big of a concern, however, if someone in your household uses a cane or wheelchair, the threshold height may be a consideration. We would be happy to discuss wheelchair accessible door options with you.