What Does Door Installation Cost? + FAQ
Post Update: Article updated June 25, 2020, and originally published on June 6, 2017, and has been completely revamped and updated for accuracy and comprehensiveness.
Getting your new home ready or remodeled is a tough endeavor.
According to Statista.com, the "total U.S. home improvement expenditure amounted to about 394 billion U.S. dollars in 2018."
Making a home more comfortable or improving energy efficiency are just a couple of reasons people remodel their homes.
Installing the doors of your home is one of the first steps to get your home ready.
With all of the different door designs and choices you can make, you need to spend some time on it.
If you are looking forward to changing or to install brand new doors, one of the main questions you probably came out with is: how much does door installation cost?
Here, we'll break down what a door installation process should cost and what it entails.
General Cost for Door Installation
The type of door,  whether it is an interior, exterior, patio, entrance, or storm door, is directly related to the cost of it. On average, door installation costs around $900.
Typically, a homeowner will spend anywhere between $400 to $1400 on it, depending on the location, complexity, and effort needed. The cost for interior types of door frames might be anywhere from $100 to $1000. For entry doors, that cost could go up substantially.
The cost for the installation of entry and storm doors is between $500 y $1400.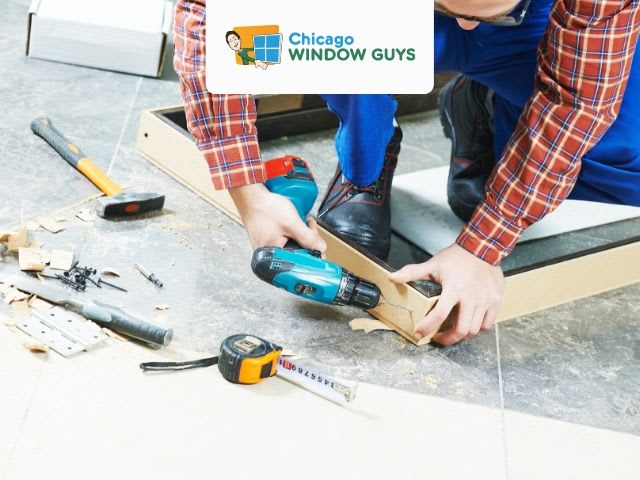 Prices vary due to many factors, such as a brand, company hired, material, difficulties of the installation, removing the existing door, and much more.
This guide will help you know more or less the prices surrounding this service.
Don´t forget about your door frames. Usually, installing or fixing an existing frame costs around $500. Factors such as the size of the opening will make variations in your total cost.
The most significant factor that will affect the total cost is the material you choose. The cost for hollow and basic doors are much cheaper than the ones made of solid oak or glass.
The Best Replacement Windows and Doors at the Best Price
We're the #1 Reviewed Door and Window Installation Service in Chicago for a reason. We know how to help.
Different Material Cost
Some of the most common door materials include wood, wood veneer, aluminum, fiberglass, or even steel. There are some other more uncommon options. They all are unique and have their characteristics. The material also affects the total price of the project.
Beyond the material, they come in different styles, such as: flushed, arched, glass, pocket, barn, french, dutch, sliding, and patio doors. Here, we'll break down what some materials would typically cost and why you should choose that material for your home.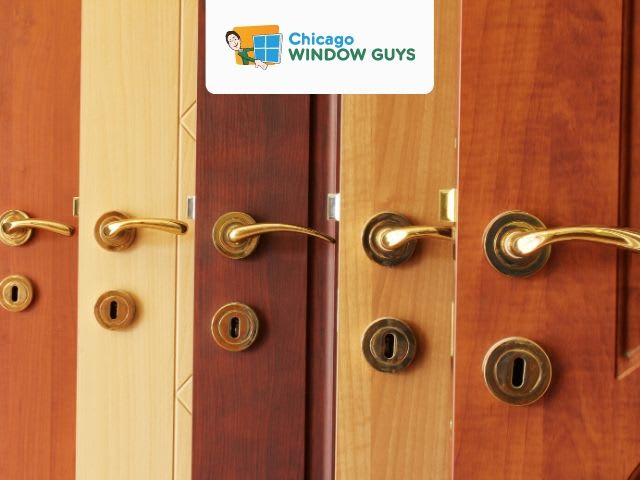 Wood
The cost for a wooden door typically is from $40 to $200, while solid wood doors cost $150 to $500. These prices are usually for exterior doors. The use of wood is a common and popular choice that comes in a wide variety of styles and colors.
Steel
For steel doors, it might cost anywhere from $500 to $1300 to install or replace; it is a cheap material, but also durable. It's also great at handling a wide variety of weather conditions but it can potentially get dented or scratched.
Fiberglass
Fiberglass doors can cost $150 up to $5000, and they give you and your house a lot of benefits. They're available in smooth or even wood grain textures. They don't require maintenance and are energy efficient.
The Process to Replace Your Door
Now that you've decided what type and material you'd like to go with, let's break down what the replacement requires.
Removing doors, whether they're interior or exterior, usually takes about an hour. The labor cost probably includes a disposal fee. For exterior doors, the price is a little higher due to the layers of material, any homeowner traffic, and weather conditions. The main point of concern when removing the interior doors are the dust and debris.
Typically, a professional will measure the width of the opening (from the left edge of the door to the right edge of it horizontally) and its height. They don't take any weatherstripping into account. Then you'll want to measure the depth of the door and the wall from the interior to the exterior trim. This will give you a good idea of how to measure a door for replacements.
You have to have in mind that in all projects, it usually happens to be extra work that comes along the way. Consider within your budget some additional charges that may come up once the installation is ongoing. Some extra expenses that may come up along the way are: repairing the already existing frame, repairing water damage in the opening that is going to be fixed, replacing the hardware of the interior door, and changing the frame size.
You might want to think twice when considering replacing a door yourself. When you hire a professional, you prevent incorrect installations. If you are keen on replacing the door on your own, be sure to frame the door evenly, have a professional finish carpenter handle your trim, and level the floor and frame before installation.
Get Your Door Installed Today
Getting your house ready is a stressful task, but it doesn´t have to be hard. Instead, you should hire a professional to install your doors for some peace of mind and to get the best results.